PENGARUH SISTEM SYARIAH TERHADAP MINAT MASYARAKAT NON MUSLIM DALAM BERTRANSAKSI DI BANK SYARIAH INDONESIA
Dwi Rahadini

UIN Raden Intan Lampung

M Abdurrahman Faqihudin

UIN Raden Intan Lampung

Vicky F Sanjaya

UIN Raden Intan Lampung
Keywords:
Sistem Syariah, Minat Masyarakat, Non-Muslim Bertransaksi
Abstract
Aim of this research is to know the application of sharia system in Indonesian Sharia Bank, to know public interest in Indonesian Sharia Bank and non-muslim communities in transactions at Indonesian Sharia Bank. The research activity wa carried out at the Indonesian Sharia Bank in the city of Tangerang. The research method used in journal is a questionnaire method. Samples from this study amounted to 40 respondents. Test were statistical performed using Cronbac'h alpha, construck reliability and Average Variance Extrated (AVE). All proposed hypotheses are supported and significant. The conclusion of this study is that the effect of the sharia system on the interests of non-muslim communities has a significant and positive effect on transaction at Indonesian Sharia Bank.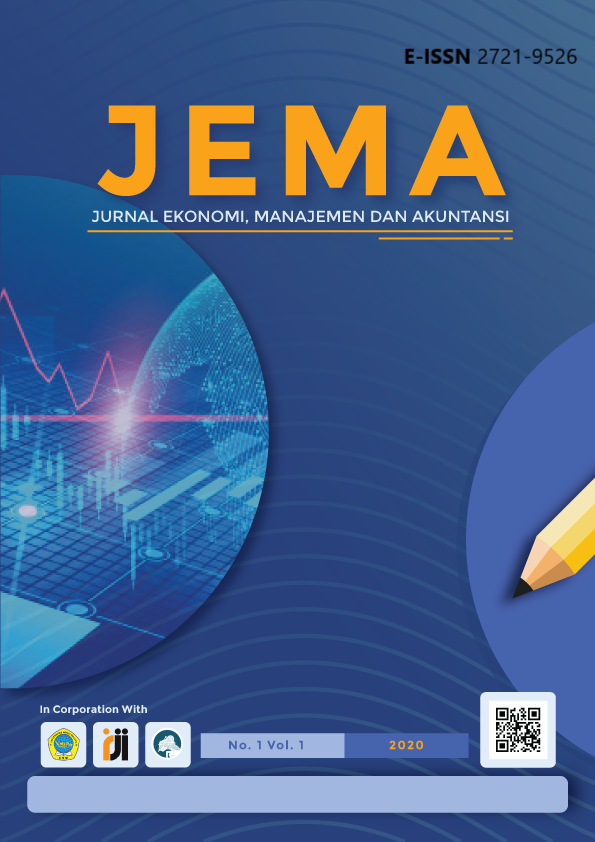 Copyright (c) 2022 Jurnal Ekonomi, Manajemen dan Akuntansi (JEMA) Universitas Ngudi Waluyo
This work is licensed under a Creative Commons Attribution-ShareAlike 4.0 International License.

This license lets others distribute, remix, adapt, and build upon your work, even commercially, as long as they credit you for the original creation. This is the most accommodating of licenses offered. Recommended for maximum dissemination and use of licensed materials.